Description
Classic meets contemporary for maximum impact with this chic timepiece from Olivia Burton.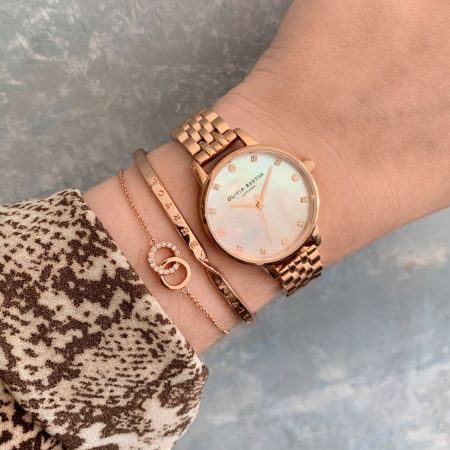 A shimmering mother-of-pearl dial is illuminated with rose gold accents for a sophisticated and feminine look whilst screw detail and sparkling crystal markers bring a contemporary vibe you will love.
This mother-of-pearl goddess is housed within an elegant 30mm case crafted from warm rose gold ion-plated stainless steel for enduring beauty whilst giving a nod to the planet.
Protective and calming, mother-of-pearl is also said to bring luck and good fortune to the wearer and is perfect for gifting.
There's just time to wrap the eye-catching rose gold tone link bracelet around the wrist and go.
Ideal for those who like to mix up the classics with a touch of modernism.
Wear it your way – its neutral tones can be styled according to your unique look.
Happy days bright one.