Description
It's a love thing with this dreamy Cariad Inner Charm pendant containing rare Welsh gold from Clogau.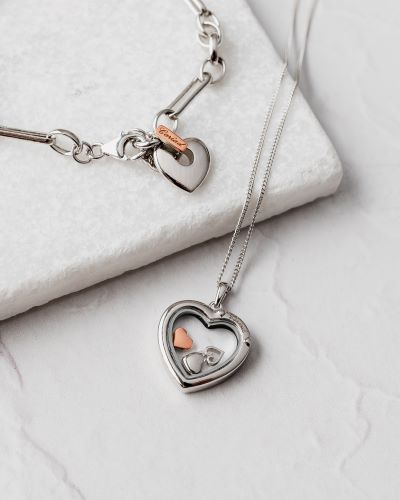 Featuring floating inner heart charms within a sterling silver and 9ct rose gold glass pendant, it's about keeping loved ones close to your heart whenever wearing.
Protected by scratch-resistant sapphire crystal for enduring beauty, charming touches include the cute cariad inscription with dainty love hearts, creating good vibes along the way.
Completing this romantic pendant is a dainty yet strong 22″ curb chain which can be worn at differing lengths, offering jump rings at 18″ and 20″.
Whether worn solo or layered, it's all about keeping the love story alive.
Dw i mewn cariad.
The Clogau team have created this beautiful collection based on Cariad, meaning love, with sweet heart shaped pieces you will adore. Containing rare Welsh gold, each is a forever treasure on its own. It's time to create your own love story… happy dreaming.