Choosing an engagement ring used to be simple – you'd choose between princess or emerald cut? White gold or yellow gold? Today, there's far more to consider when looking for the perfect engagement ring. So, without further ado – let's dive into our tips to help you confidently make the right choice on this monumental purchase. 
The engagement ring symbolises eternal love – a promise of devotion to your partner till your very last breath. One of the most beautiful traditions humankind ever had is definitely buying an engagement ring and asking your partner to spend the rest of the days by your side.
This history goes all the way back to 850 when Pope Nicholas I declared that the engagement ring represents the man's intent to enter holy matrimony with a woman. Since then, it goes without saying things have changed a lot including how people choose the right ring for their partner & decide to ask the question. 
Instead of introducing you to the customs and traditions of men back in 850, we've decided to walk you through the 10 step guide on how you should pick and buy an engagement ring in 2021 and represent your love the best possible way.
1. Research Ideas Online And Save The Best Ones
You probably don't know much about buying an engagement ring if it's your first time, and therefore you probably don't even know much about how engagement rings can look like and what options are available.
Doing research can help with things like:
Figuring out what you actually want

Getting inspired

Getting more ideas to investigate

Getting a better grasp on things such as materials and prices
Google is always your best friend, but for this occasion, you can also use Pinterest as there are plenty of ideas there. 
Another great resource is definitely our shop. You can browse for hundreds of engagement rings and you can even search by categories – filtering by price, cut and style. We're certain you'll find a lot of ideas there, so make sure you check it out!
Research doesn't have to be limited to what type of ring you want to get. You can research proposal ideas, occasions for asking THE questions, how you can incorporate your ideas and wishes into the ring, etc.
For all these things, Google, Pinterest and even YouTube can help a lot, plus, we're sure you'll come across the stories where you will tear up a bit!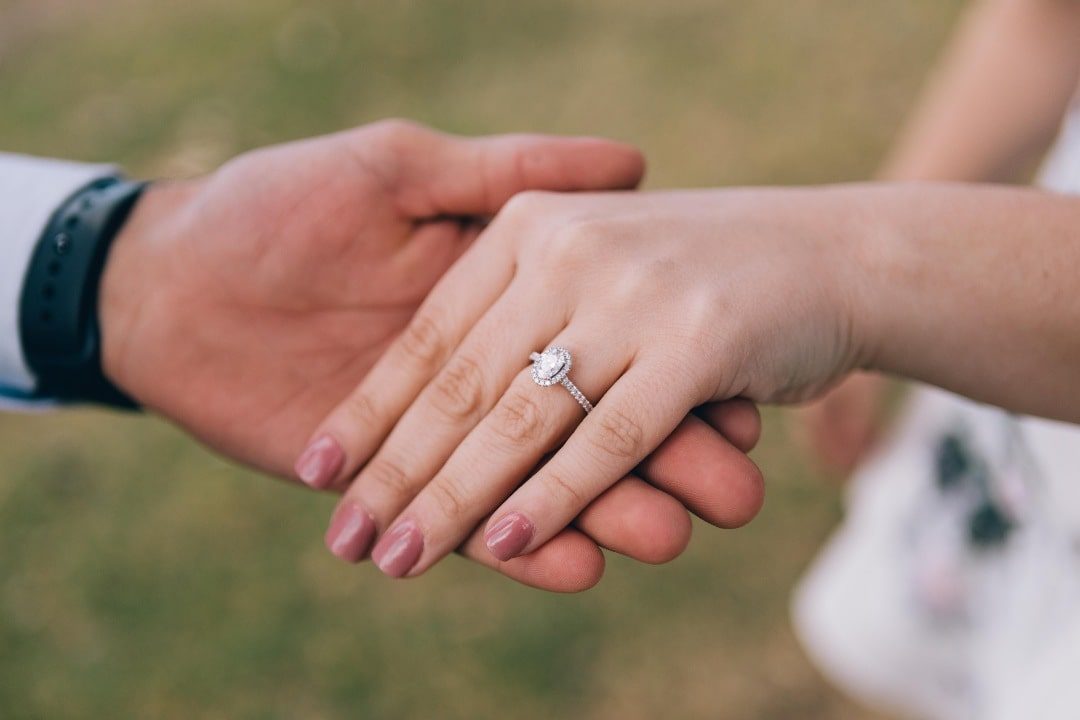 2. Define Your Budget
Engagement rings can go from very cheap to extremely expensive, which is why you have to define your budget. 
We often get asked "How much are your engagement rings?" and our answer is always the same – it depends. 
We will talk a bit later about how much you should spend on buying an engagement ring, but before getting there, figuring out your budget is essential.
Your budget can be low or high, but it doesn't really matter. What matters is that you give it your best shot, regardless of what you can afford. 
Make sure your budget covers the quality and uniqueness. Your engagement ring should tell a story about your love, and what it means are much more powerful here than the stone, style, shape, and other things are. 
Once you figure out the budget, regardless of what it is, you can follow the next steps of this guide to figure out what you can get exactly for the money.
3. Bring Someone With You
Buying an engagement ring on your own isn't always the best way to go, but bear in mind that having a third person deciding which ring you should get isn't good either.
Get in touch with your partner's best friend, mom, sister or someone else who's really close to them and ask them to go with you. Your partner's loved one will most definitely be thrilled to assist you and give their own input on picking a perfect engagement ring.
You can actually use that knowledge, and get a hint of what your partner would like and what they always wanted. You definitely want your loved one to like it, have it and remember it for the rest of their life, so the third person in the engagement ring shopping with you is extremely valuable!
Just make sure you set up the boundaries – they are there to give you a piece of advice and help you figure out what's the best choice. They are definitely not there to tell you what to buy. In the end, it's your engagement, your story, and the love of your life.
4. Consult with David Christopher Jewellers
Here at David Christopher Jewellers, we'd be more than happy to help you buy the perfect engagement ring.
Our experts are willing to assist you, show you a variety of engagement rings we have in our stores, and in case you're not that familiar with what to look at actually, our jewellers will help you figure things out.
You can discuss the offer or all 5Cs (cut, clarity, colour, carat, cost), either way, David Christopher jewellers will happily provide you with anything you need.
We have a wide range to choose from and are confident we'll be able to find the perfect match – an engagement ring that you like, aligns with your partner's taste and fits in your budget! So make sure to reach out to us!
5. Choose the Centre Gemstone
The heart of your ring is definitely the stone. There's a variety of options when it comes to picking the perfect stone. Here are a few of the options you can choose from:
The Shape of the Stone 
Shape plays a big role in the style of your ring, but it also tells a lot about your story and the price of the stone as well.
Rough edges of the stone may symbolize that you've been through a lot with your partner and that those times hardened you. On the other hand, smooth edges can symbolize eternal love, no beginning and no end. It all depends on how you see it what story fits you best.
Simple shapes of the stone can be:
Round Brilliant

Oval

Pear

Heart
More "complicated" stones may be:
Marquise – elliptical shape

Emerald – emerald shaped stone that allows you to see the heart of the stone and its clarity

Radiant – elegant rectangular shape

Princess – squared shape with edges slightly pointing out

Asscher – cut-cornered squared shape with a high crown 

Cushion – softened squared shape with round edges
All these options are available in our shop as well, but the most important thing is that you know there's a variety of options you can choose from.
The Type of Stone
Not every engagement ring has to be diamond.
It's perfectly fine if your budget (or simply a taste) prevents you from getting a diamond on your engagement ring. 
Other types of the stone you can choose on your engagement ring are:
Sapphire

Onyx

Emerald

Ruby

Morganite

Opal
… or any other gemstone. 
The lower price of the stone doesn't mean your engagement ring is worthless – you're buying it with the intention of spending the rest of your days with the love of your life, not to impress your partner with how expensive and rare your gift is.
You can get a lot from mixing some of these options and it's most likely that your engagement ring will end up being unique and special.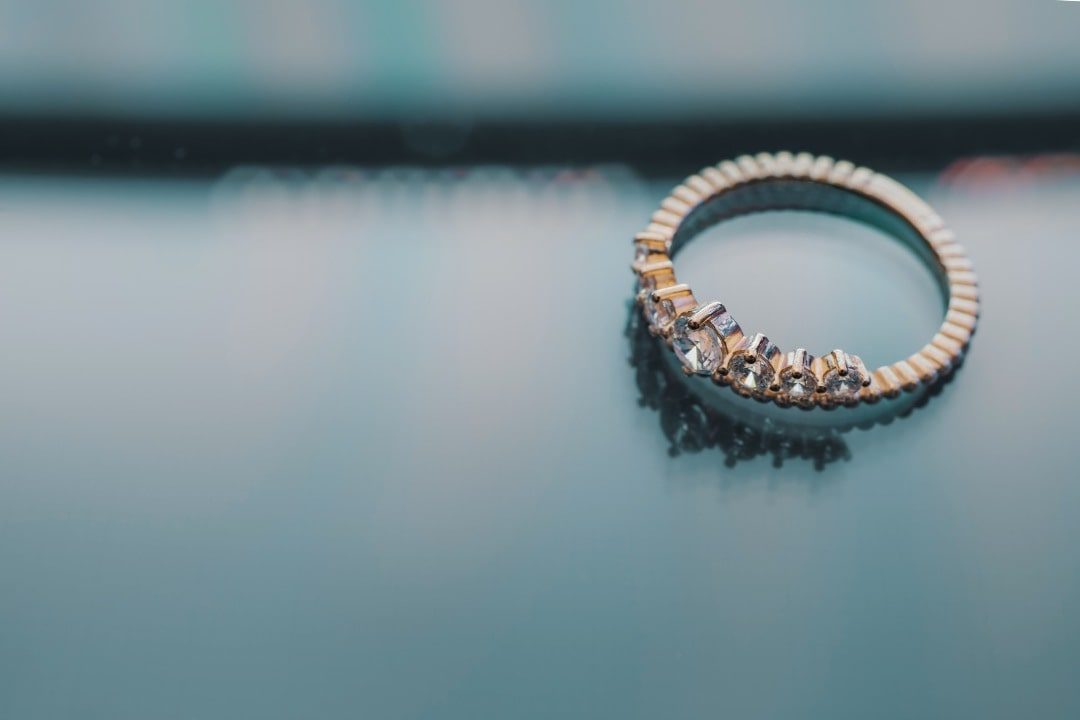 6. Pick Your Metal Of Choice 
Once you've decided what stone you want your engagement ring to have, it's time to choose the metal.
The most popular choices are definitely platinum and gold. 
Platinum is a naturally white metal recognized for its rareness and pureness. It's more durable and dense than gold, and it's hypoallergenic as well.
Besides that, the platinum colour will not fade or change over time which means it will stay the same even if it's worn for a long time, or just displayed on the shelf.
When it comes to gold, it's ultimately the most common choice for jewellery and the most popular options are yellow gold and white gold.
It's important to state that gold is often mixed with other metals, as 100% pure gold is too soft to be used for jewellery, so the most common option is 22K gold which is 75% gold concentration in the ring.
Yellow gold is considered an everlasting classic. Sure, it lost a bit of popularity over white gold, but trends change and it's expected that yellow gold will come back as the most popular option
White gold is a silvery-white colour and it's plated with rhodium which costs about four times as platinum and it's scratch resistant. However, it may wear out over time, and just as with yellow gold, you might want to visit a jeweller after a while to replate your ring.
There are also other types of gold such as rose gold and green gold, which will definitely help with the uniqueness of your ring, but overall it's still gold just mixed with different metals.
Either way, picking a gold or platinum as your engagement ring metal is the best way to go.
7. Choose A Setting Style
Rings are all about details, and even though it doesn't look that important, setting plays a big role in the looks of the engagement ring.
The setting is nothing more than the way gemstone is set or mounted into a metal band. Gemstone is the artwork and the setting is basically the frame. 
Do you really think that it's perfectly fine for Mona Lisa painting to have an ordinary, simple wooden frame? Neither do we.
The reason why the setting is important is that it helps a lot with exaggerating the beauty of the gemstone and if we're talking about symbolics, it may represent the way of how you are nurturing your love. Do you hold it jealousy like Tension setting or you're not afraid to show it like the Bead setting? 
Popular choices when it comes to the setting are:
Diamond Solitaire

Pave setting

Three Stone Rings

Halo Rings

Bazel setting
If you're not certain about the style of your engagement ring make sure to browse through our wide range of engagement rings and filter by style!
9. Know Your Partner's Ring Size
Imagine going through all these steps, talking to a bunch of jewellers, finally figuring out what you exactly want, you go to buy it and you don't know your partner's ring size.
The worst option is to try to guess their ring size and buy randomly. You have a maximum of 20% of chance of getting it right so that's definitely not the way to go.
It's very important that you figure out their ring size, and there's actually plenty of ways to do it, without them figuring out you're up to something.
You can ask your partner's friend or take one of your partner's rings for the day to get it to your favourite local jeweller, you can use our ring size chart or you can measure it while she's asleep. 
We covered all these options in detailed steps in our post all about How To Find Your Partner's Ring Size (Without Them Knowing), so if this is the step you're on right now, now would be a great time to check that post out!
10. Know the Warranty and Have Insurance
Last but not least, make sure the engagement ring you buy has insurance and a warranty.
That way in case something happens like the ring being stolen or simply damaged, you can fix things without much headache.
It doesn't matter if insurance or warranty play a role in the ring's price – trust us, it's worth it!
Here at David Christopher, we issue 2 year warranty for all engagement rings. 
Things You Should Know Before Buying Perfect Engagement Ring
Even though our 10 step guide to buying an engagement ring will help you immensely, it's important that we cover a few things you should have in mind before deciding to buy an engagement ring.
These things are equally important as the steps above so make sure you understand them properly!
Be unique
Don't be afraid to be bold and unique.
If you have in mind an engagement ring like no other, accept all advice given to you by the jeweller and your partner's friends and family, but in the end, make your own decision.
If you're bold enough to have a unique idea and stick to it, you're on the right path. 
The reason we're saying this is because an engagement ring should be something that symbolizes a new chapter of life. 
The ring should also reflect the style and personality of the person wearing it, so have that in mind. Your loved one is unique to you, and therefore don't be afraid to make your engagement ring unique as well.
Price is important but not that much
Yes, price is important but only in terms of fitting into your budget.
Also, it's not important because you're not buying the ring to tell everyone what is it worth, but to express love and willingness to upgrade your relationship. 
It's between you and your partner, and in most cases, they'll be stunned with the act of proposal after which will have a closer look to admire the thing you chose.
And even when they do, the price won't (or better yet, shouldn't) play any role in how beautiful the ring is nor what it represents.
Saying that, no reason for you to feel any pressure if you can't afford the £5,000 engagement ring. What matters is your intent and act. 
Size doesn't matter
Just as the price, the size of your ring doesn't matter.
At all.
Various styles of the ring that we mentioned above will allow you to get almost everything you want out of your ring including the size, but don't stress yourself with the gemstone size.
A bigger gemstone doesn't necessarily mean that the ring is more worthy nor it has anything a smaller gemstone has except the higher price.
Therefore, you should pick the ring based on what you and your partner like and get the most out of your budget.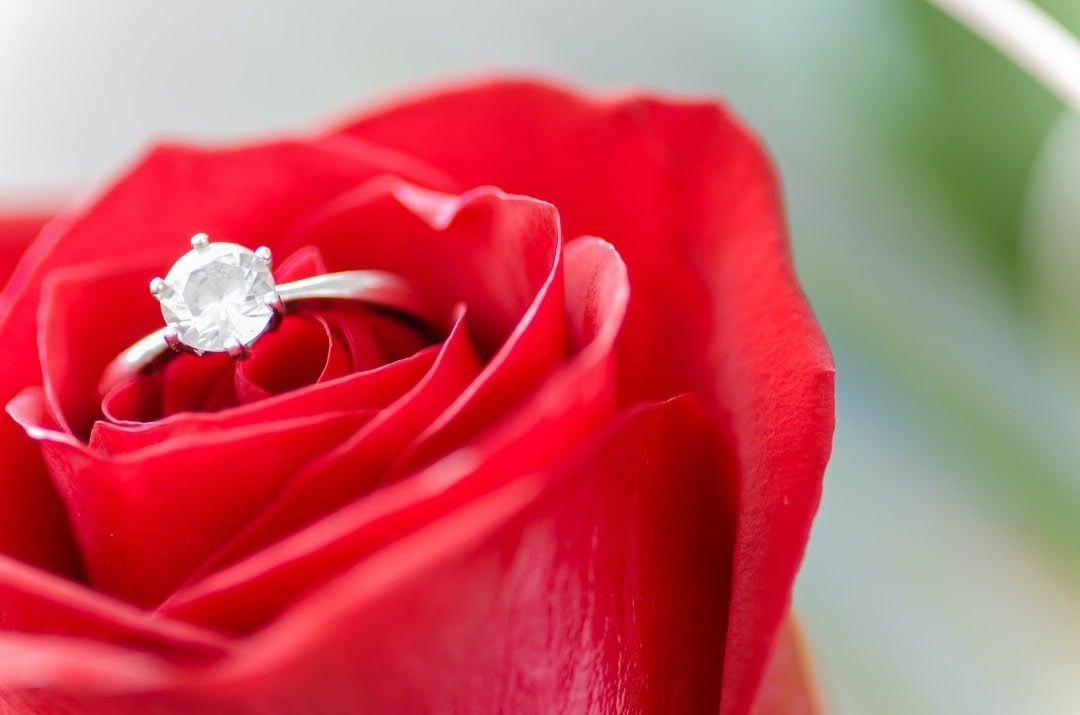 Consider ordering a custom ring
The custom ring may come at a higher price, but they're definitely justified by their uniqueness.
Every jewellery store will have a catalogue of rings that you can order and truth to be told, you can even find unique rings there that not so many people have.
However, ordering a custom ring is a definite way to make all your wishes come true, so if you don't mind spending the extra money to get it, then it's definitely a worthy option.
Every love story is unique, and so your ring can be unique as well.
Custom-built rings allow you to literally make anything you want and chances of your partner loving it are also increased.
Don't buy in the first jeweller
One thing is almost guaranteed – when you enter the first jewellery store you'll most certainly find something you like and it's quite possible that your quest for a perfect engagement ring will end there.
However, we'd advise you not to buy the first jewellery store simply because you haven't explored all the options and chances are good that you can find a better deal.
Buying an engagement ring sounds simple, but bear in mind that it's not every day that you're actually doing it, and therefore you should exhaust all resources and figure out what's best for you.
Get more ideas, speak with multiple people (jewellers, friends and family) and then pick what's the best option for you. We're sure that you can find exactly what you want on our website but make sure to explore more!
How Long Before You Propose Should You Buy The Ring?
You should buy the engagement ring right before the planned proposal.
This doesn't mean that you should start exploring all options right before the proposal. This process may take even a couple of months depending on how much time you have on your hands and how specific you are about the ring you want to get.
After your research is done and you know what you'll get, plan the next steps carefully:
Plan the proposal fully – know exactly when you will ask THE question

Make sure with your jeweller that your ring will be available and ready

In case you're ordering online, make sure your ring will be delivered on time

Make sure your ring arrives just a day or two before the planned event.
Planning all these steps is not that complicated and it's ultimately the best option because you will make sure you have the ring on time and you won't wait long until proposing.
How much should I spend on an engagement ring?
When buying an engagement ring, you should spend exactly how much you can afford.
As we mentioned above, you can get an incredible engagement ring anywhere between £500 – £5,000. It all depends on what you and your partner like, what represents best your story and what you can actually afford.
Make sure to get the best deal out of your budget whatever that is and you should get the desired effect.
After all, the goal is that they say yes, not just to buy an expensive ring, right?
Do couples go engagement ring shopping together?
Some couples do go engagement ring shopping together even though the tradition was always that men go by themselves.
It's perfectly fine if your partner want's to go with you, or you want them to with you, but bear in mind that the factor of surprise will lack.
The beauty of the engagement ceremony is that they don't know when will it happen or will it happen at all. 
Your partner's reaction will definitely be priceless if you decide to shop the engagement ring by yourself.
Summary
Buying an engagement ring is not the most simple process in the world. 
It goes without saying buying an engagement ring isn't that easy – but with this guide & the support from a great jeweller, we're confident you'll be able to confidently find out what to pay attention to, what the best metal is as well as the right setting & gemstone for your partner. 
Your proposal is your act of love and willingness to get your relationship to another level. Given that, the ring's prize and gemstone shouldn't be the only thing you consider – at the end of the day, it's the thought & gesture that really matters. And here at David Christopher Jewellers, we have a wide range of engagement rings to fit any budget and style choice. If you have any questions at all, don't hesitate to reach out to our team.