Description
Minimalist Danish styling for maximum impact. This stunning black and rose gold toned timepiece from BERING is a contemporary beauty.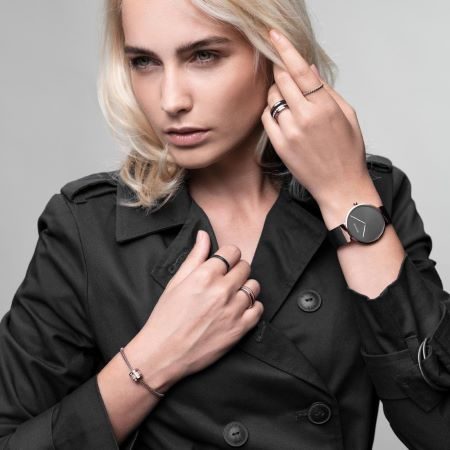 Featuring a sleek black dial inspired by Arctic nights, it's elegantly housed within a 39mm rose gold Ion-Plated stainless steel casing for a sophisticated look to take you effortlessly to evening.
Scratch-resistant sapphire crystal protects its modernistic looks whilst a finely woven black Milanese Mesh strap wraps around the wrist for style heaven.
Turning up the volume with effortless ease – happy days.
P.S. Don't forget it's inside out Beauty
Highlights include:
The casing is crafted from a marine grade stainless steel 316L base. It is both tarnish free and skin friendly. Despite all its strength, this material is surprisingly lightweight, so it's a comfort fit every time.
Scratch-resistant sapphire crystal protects the watch face which is both beautiful and tough.
Coated with rose gold Ion-Plating for durability whilst giving a nod to the planet due to its eco-friendly credentials.
BERING – a name renowned for minimalist Danish design, takes its inspiration from the famous Danish explorer, Vitus Bering and the beauty of the Arctic. From the deep dark blue of the Arctic Ocean to the fluorescent aurora green, golden sunsets and Arctic Nights, each Colour World and Classic Collection takes you on a magical journey through the Arctic