Description
Classic meets contemporary with this eye-catching diamond trilogy 18ct yellow gold ring.
Ideal for those who yearn for the beauty of forever diamonds within a modern setting yet crave the comfort of warm yellow gold, this is the perfect ring for you.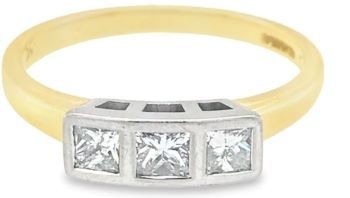 Dare to be square
Of geometric style, three princess cut diamonds of a combined weight of 0.50cts, nestle within a silver toned box-shaped setting with openwork gallery, creating a unique look to take you anywhere.
Its two tone styling adds a further dimension, attracting a chic vibe for bold and beautiful spirits.
A polished 18ct yellow gold band with graduated shoulders, completes a ring for those who like to wear diamonds their way.
It's a love thing
Representing love and faithfulness, diamonds are always in fashion and are perfect for gifting to a loved one.
This wonderful trilogy ring can also be worn as an engagement or commitment ring. Ultimately, it's your love story – you choose.
With diamonds making thoughtful romantic tokens for celebrating April birthdays and 10th wedding anniversaries, they are a versatile and stylish gemstone for all seasons.
Keep shining like the diamond girl you are.
Ring Finger Size: P
Combined Diamond weight: 0.50cts
Ring Weight: 4.21g
All our pre-owned jewellery is checked by our goldsmith before being polished when required.